What is Employee Engagement and Why it is Essential to the Growth of a company?
Employee engagement describes people who are committed to their work and has a positive attitude towards the organisation and its values. Engaged employees are motivated to do well and are emotionally invested in their work. They are dedicated to their company and role, which makes them passionate about their work.  
Top 4 Reasons For Employee Engagement:
Boosts productivity and decreases absenteeism
Reports have shown that employees who are personally invested in their roles are more productive than those who aren't 
Enhances company culture
Engaged employees are likely to improve the overall morale in the workplace and positively affect other employees as well. 
Increases customer satisfaction
Engaged employees who are passionate about what they do are more inclined to deliver better customer experience and increase satisfaction, as they are highly likely to believe in the product/service they are selling and strives to obtain more customers for the company.  
Increases retention rate
Employees who are engaged are highly involved and invested in their roles. Hence, they are less likely to leave their jobs. If your company is dealing with low retention rates, it is crucial to find out the reasons why it may be so. When the best people at your company leaves, other employees will notice and you do not want a ripple effect. 
Forbis' HR Internal Audit 
Assess current HR situation
ForBis assesses the current HR situation by conducting SWOT Analysis to analyse the company's internal current capabilities and external environment, as well as developing skills inventory for employees through employee surveys.
This helps ForBis to understand the company's internal and external environment as well as their current employees before deciding whether to hire new talents.
Forecast future HR requirements
ForBis understands the importance of forecasting future HR requirements so as to link its company's demand for quality employees with the supply available in the market.
It is important to forecast demand: the number of employees needed to meet the company's current and future needs so that ForBis will prevent over/under-hiring. Furthermore, the supply of employees is also essential for ForBis to look for potential candidates outside of the company who can meet the needs not fulfilled by current employees.

Review and evaluate HR plan and progress
ForBis makes use of balanced scorecards and/or benchmarks to conduct quarterly/annual reviews. The purpose of quarterly/annual reviews helps ForBis to assess if its HR Strategic Planning is running smoothly and on track towards achieving key goals. If it is not, ForBis will take appropriate and corrective actions to better suit the company's needs. The review session provides opportunity for ForBis to identify and adjust to significant internal or external changes that may affect the HR strategic plan.
Job Redesign (JR)
JR requires organizations to re-look at what and how work should be allocated in a job. JR could be done through the modification of job tasks, duties and/or responsibilities, with the aim to optimise limited manpower without compromising service standards. ForBis professionals are equipped to make this process simpler for you. 

Why You Should Choose ForBis
ForBis professionals frequently attend seminars- Continuing Professional Development (CPD), Data Protection Courses, to keep themselves updated with current trends of employee engagement. 
We're also focused on engaging and implementing HR Strategic Planning -the process of identifying a company's long-term HR goals and determining the best ways to achieve them, through HR Internal Audit and Advisory Reporting. 
Benefits of HR Strategic Planning:
Provides guidance for future training and development programs

Eliminate disruptions and achieve efficiency to meet long term HR objectives

Keep employees focus on the right sense of direction to complete their work

Improve communication and relationship between employees and employers
HR strategic planning is important as it helps companies to document and standardise their HR process. It also allows companies to easily evaluate which part of the HR practices requires improvement. ForBis comprises HR experts who execute HR activities in a strategic manner, hence, companies can engage ForBis to advise them on Internal HR Audit and Advisory Reporting while developing a strategic roadmap for the company.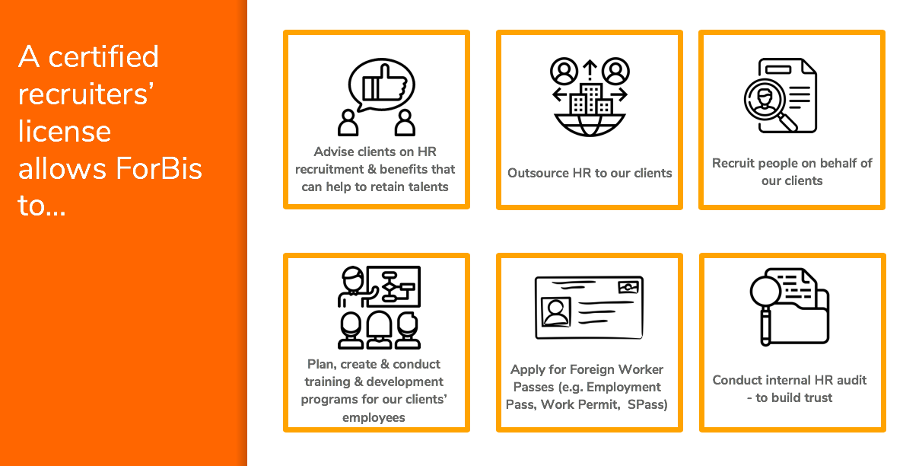 Enterprise Development Grants (EDG) 
The EDG supports Singapore companies in their growth and transformation. EDG mainly supports projects that help companies to upgrade their businesses, innovate, expand/venture into other countries, under three pillars, namely Core Capabilities, Innovation and Productivity as well as Market Access.
EDG funds qualifying project costs (e.g. third party consultancy fees, software and equipment, and internal manpower) for organizations. 
EDG helps companies to strengthen their HR capabilities by providing support levels of up to 80% for SMEs, up to 60% of qualified costs for non-SMEs from 1st April 2020 to 31st December 2020. However, EDG does not cover costs incurred from standalone training courses, incentives, benefits and welfare subsidies for employees.
EDG provides resources such as HR Diagnostic Tool, HR Portal, Talent Attraction and Development Initiatives, as well as HR Industry Manpower Plan, which helps to further engage employees. 
For more information, read more here. 
Take control of your corporate finance reporting.
Get in touch with us to learn more