When starting a new business, a great business idea is not enough to succeed. Market analysis is just as important to continuously fuel business ideas and learn more about the target customers. Using findings from analyses will allow small & new businesses to progress and expand further.
Market analysis is a quantitative and qualitative assessment of a market. It looks into the economic environment, the competition within the industry and how a business can work towards maintaining competitive advantage amongst its competitors.
The main purpose of a market analysis is to understand the positioning of a business in the industry and the consumer market. A market analysis will help a business identify its strengths, weaknesses, opportunities and threats (SWOT).
---
The Value of Market Analysis when starting a New Business
1. Avoid mistakes that are costly
Marketing is crucial, especially for small and newer businesses to get their brand name out. It should also form a significant portion in the budget. Failure to carry out due diligence to identify and analyse the target market is like trying to cross the road blindfolded. Limited and valuable resources may be pumped into areas that do not matter, which will be detrimental to new businesses that are largely tight on money.
2. Make better decisions
Not only does market analysis apply to the early stages of your business, it can also be done to justify decisions made. Market research provides the insights to help decision makers evaluate whether the risk is worth taking. Examples of decisions for new businesses may include:
Whether to launch a new product after testing
When and where to launch a new product
How to promote the product on a limited budget
3. Identify business opportunities
Obtaining market data such as market size and share, demographics, industry trends, direct and indirect competitors etc. makes it clearer to identify emerging markets and gaps in the marketplace. New businesses can leverage on these opportunities to reach out to a wider audience. For instance, Airbnb's success is attributed to their commitment to understand their customers better. Click here to find out how they used data to penetrate the Israeli market.
---
Tools for Market Analysis to derive SWOT
1. PESTLE Analysis
PESTLE analysis is a framework of macro-environmental factors that businesses can use to identify opportunities and threats existing in the environment they're operating in.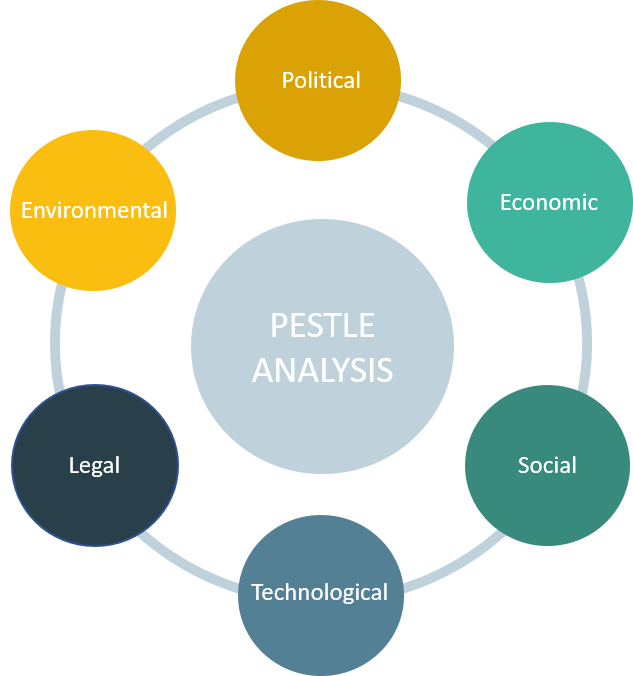 This analysis
allows businesses to understand how external factors have impacted or have the potential to affect the demand and supply of their business.
provides insights on both potential growth and downfall, giving businesses time to prepare necessary strategic plans to react in the case of an external crisis or boom.
gives a bird's eye view of the whole environment from many different aspects of an environment, ensuring a holistic approach in creating strategies.
2. Porter's Five Forces Analysis
Porter's Five Forces analysis studies the forces that shape competition within an industry, allowing businesses to adjust their strategy to suit the competitive environment, and to improve potential profit.
There are 5 key players in an industry that contributes to these 5 forces of competitions; industrial competitors, buyers, sellers, potential new entrants and substitutes. Through this analysis, businesses will be able to assess their positioning within the industry by understanding how each key player affects its business.
Supplier Power: the ability of suppliers to drive up the prices of the business' inputs.
Buyer Power: the strength of customers to drive down the prices (e.g.purchasing in bulk)
Competitive Rivalry: the strength of competition in the industry.
The Threat of Substitution: the extent to which different products and services can be used in place of its own.
The Threat of New Entry: the ease of new competitors entering the profitable market.
As such, Porter's Five Forces analysis helps to identify external factors that highlight the opportunities and threats that a business may face.
3. VRIO Analysis
VRIO is an acronym for a four-question framework of value, rarity, imitability, and organization. It is used to identify sustainable competitive advantages to grow their businesses further – i.e. strengths in SWOT. The four components of VRIO analysis are typically approached in the style of a decision tree: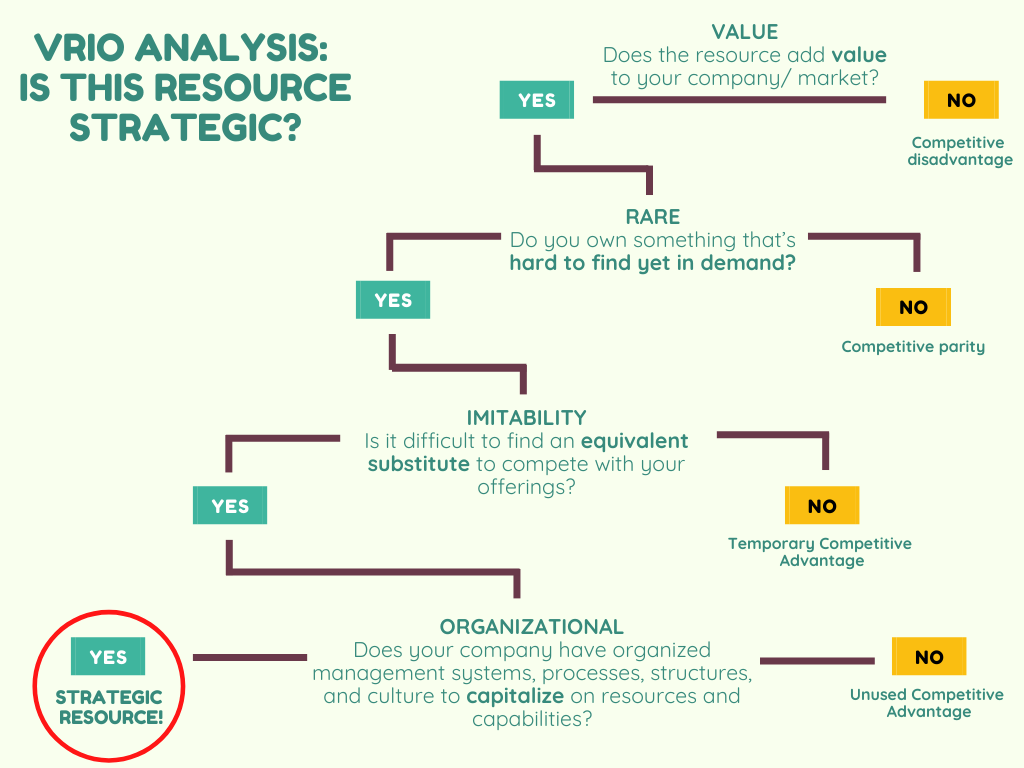 Once businesses are able to identify their key strategic resources, their strategies should work towards tapping on these strengths while trying to improve or curb on their weaknesses. At the end of the day, it is important to ensure that strategies implemented help to sustain their strategic resources, following that, sustaining their competitive advantage as well.
After going through all 3 frameworks, businesses would be able to prepare a consolidated SWOT framework and get started on conducting a market analysis to reap its benefits.

As Malcolm Forbes once said, "The best vision is insight." For a business to really grow further, especially for small and new ones, a market analysis is key in gaining insights to aid them in making strategic decisions.
---
Authors:
Celesdia SOH Jia Hui
Business Development Associate
Chrislyn WONG Shu En
Business Development Associate
Nur FADHILAH Bte Abd Fazil
Business Development Associate
Michelle CHEN
Business Development Associate
Editor:
Ryan Adnin GOH
MBa, Certified Employment Intermediary (KAH)
Director of Advisory
---
References:
https://business.tutsplus.com/articles/why-is-marketing-research-important–cms-31593
https://www.bdc.ca/en/articles-tools/blog/5-ways-improve-business-market-research
https://www.similarweb.com/corp/wp-content/uploads/2016/05/Airbnb-Success-Story.pdf
https://pestleanalysis.com/what-is-pestle-analysis/
https://www.clearpointstrategy.com/vrio-framework/