Introduction
Globalization has encouraged businesses to collaborate and source for opportunities outside their own country, facilitating their growth tremendously. Not only does international expansion allow companies to achieve diversification and gain access to talent, it also exposes one to different methods of doing business. In fact, business transformation is now seen as critical as it offers firms an opportunity to become less dependent on their domestic economic situation.
However, according to CNA, many businesses are still hesitant to take the leap. With the current pandemic, more businesses take the conservative approach and are even more reluctant to expand overseas.
---
Why Should Companies Expand Overseas?
Businesses should expand overseas to reap these benefits: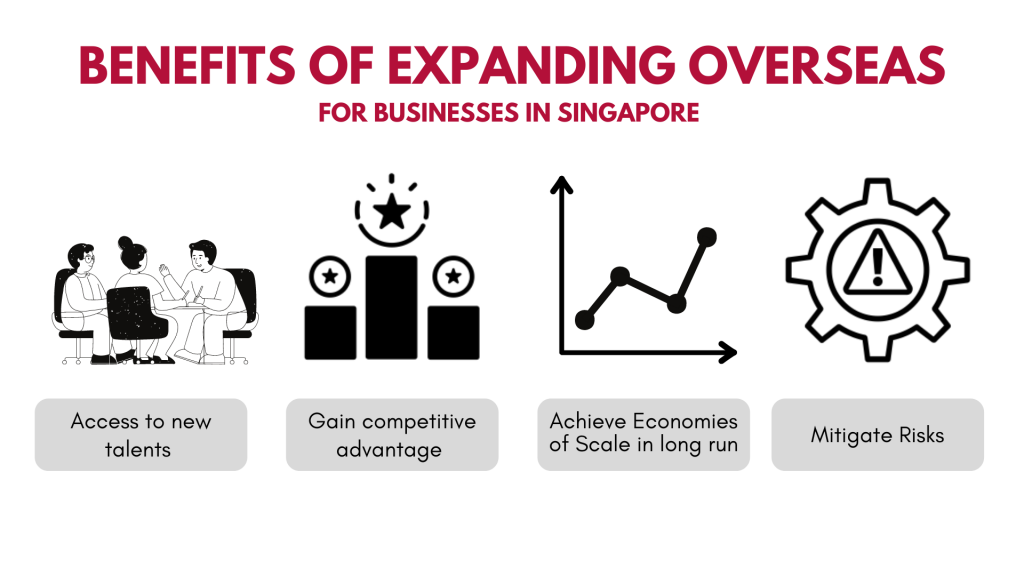 1. Access to new talents
Entering a new market allows Singapore firms to gain access to foreign talents out there. Ideas shared by these highly skilled individuals that come from varying backgrounds can offer new perspectives that a company may have overlooked previously. Hence, tapping on such talents will provide opportunities for the firm to explore the abundant possibilities for it to grow exponentially.
2. Gain competitive advantage
By being the first or the first few companies to establish a presence within the foreign market, firms are able to benefit from additional perks, such as ease of dominance in the market. They will also be able to establish a better brand name, more prominent brand recognition, and a greatly amplified reputation.
3. Achieve Economies of Scale (EoS) in long run
Some companies tend to be attracted to certain countries due to the availability of cheap and highly skilled labor and readily available raw materials for production. Depending on the type of industry a firm is in, expanding businesses to these countries can help them reduce cost of operations, labor and materials. By constantly working towards increasing production and lowering cost, firms will be able to achieve economies of scale over time.
4. Mitigate risks
When a firm diversifies geographically, they are able to mitigate the overall risk they face. When international expansion is successful, the business is able to offset any losses in their domestic market – caused by an economic or political event. In simpler terms, there will always be a "backup" plan while waiting for the other economy to stabilize itself.
---
Singapore Government Grants
However, expanding overseas is costly and not many businesses have the ability to go global with their own funds. This is why government grants are highly sought after to aid businesses in their plans to expand internationally.
Disclaimer: This paper was prepared and published in the midst of the COVID-19 Pandemic. Please refer to https://www.businessgrants.gov.sg/ for the most updated information regarding the monetary values of the grants.
Name of Grants
Details of Grant
Market Readiness Assistance (MRA) Grant
The MRA grant is meant to help SG companies with their marketing expenses when venturing overseas. Eligible SMEs will be granted up to 80% (till 30 Sept 2021) support on eligible costs, capped at S$100,000 per market.

It covers:
Overseas market promotion (capped at S$20,000)
Overseas business development (capped at S$50,000)
Overseas market set-up (capped at S$30,000)

For more information, click here.
Enterprise Development Grant (EDG)
The EDG grant has three pillars: Core Capabilities, Innovation and Productivity, and Market Access.

Projects that are under the Market Access pillar provide up to 80% support level for SMEs, and 60% for non-SMEs of the qualifying costs.

The grant support Singapore companies in the following ways:
Mergers and Acquisitions (M&A)
Includes planning, assessment of potential M&As or post-M&A stage integration.
For more details on qualifying activities, click here.

Pilot Project and Test Bedding
Aid in overseas expansion through building track record. It covers the demonstration of product, viability of solution and establishment of a track record to scale in new markets.
At the point of grant application, the product should be new and should not generate any revenue.

Standards Adoption
Adopt internationally-recognized standards and certifications in key industries and emerging sectors. The purpose is to help businesses improve market access, competitiveness both locally and internationally, and trust in products and services.
For more details on scope of work covered, click here.
International Co-Innovation Programme

To expand the global network, partnerships are set up with the EUREKA Network, France, Germany, Israel and Shanghai.

The programme aims to support companies in their international collaborations on technology development and co-innovation through the exchange of ideas and knowledge across enterprises in different countries.
Land Productivity Grant (LPG)
For optimisation of land use through overseas relocation, the grant covers a portion of its initial costs.
The funding available is for up to 70% of the qualifying costs.

For more information on the qualifying costs, click here.
PACT
The PACT programme encourages collaborations beyond regular business activities.
The level of support is capped at 70% for SMEs, and 50% for non-SMEs of the qualifying costs.

For more details on eligibility, click here.
---
Governmental Support during Covid-19 – Grants
In the midst of the pandemic, the Singapore government has stepped in to support businesses with increasing the funding support of grants.
The MRA support was actually increased from 70% to 80% till 30 Sept 2021. The 70% grant support is also extended until 31st March 2023. Enterprise Singapore increased funding support to "encourage and enable companies to find new business opportunities overseas through such virtual platforms, without physical travel".
The Temporary Bridging Loan Programme will also be extended from 1st April 2021 to 30th September 2021 in order to help businesses to sustain and grow their businesses activities. In tandem with this, the Monetary Authority of Singapore's (MAS) SGD Loan Facility will also extend their support for all loans approved under the programme until 30th September 2021. The Singapore government has also lowered its risk-share on the loan from 90% to 70%, and lowered the maximum loan quantum from S$5 million to S$3 million.
---
Approaches to a Successful Overseas Expansion
While there is no sure-win formula to successfully venture overseas even with the government grants, businesses can be prepared for possible challenges and obstacles they may face. Here are some tips that companies can take to be better prepared.
1. Perform due diligence
It is essential for companies to research the country they are intending to expand into. Not only does it include reading up on the specific laws and regulations of that country, but also doing thorough market analysis of the industry. This is to ensure that there is a market for the product or service, and whether the product is a good fit for the country's local market.
Companies should also study the governance of the country – the state or stability of their politics and their current labour costs as these will play a big part in ensuring employee stability, rights and intellectual property of businesses.
2. Work with experts or local representatives
When Singapore firms work with experts or local representatives from the country they intend to venture into, they can leverage on their knowledge to obtain a better understanding of the market behaviour, barriers of entry and how to grow market presence.
Relying on experts or local representatives, when necessary, can help the company to better integrate into the local culture and understand the government, laws and policies in the different markets. Often, setting up a business overseas requires a lot of paperwork. Hence, it would be beneficial to get help from attorneys who specialize in business law for the particular country.
3. Be financially ready
It is crucial to be aware of the costs involved in expanding to another country. The market price might be different from those in the country of origin. Companies must also be prepared to incur additional costs as they may face the possibility of insufficient capital due to unexpected costs. It is wise for companies to secure angel investors first as these investors may have connections in the country that the company can tap on.
4. Adopt the local mindset
The main concern when a firm first enters a new market is "How do we buy the mindsets of the locals there?". One way to tackle this is for firms to partner with established local businesses as it gives companies the ease to introduce themselves to the locals. Firms will be able to navigate the unfamiliar business landscape more comfortably, as they will have guidance from their partners.
In recent years, the rise of social media has also developed a new form of partnership, where companies can look to collaborating with local digital influencers instead of only being limited to local businesses. These digital influencers are recognised as "local thought leaders" on their platforms, with a loyal following of fans that place high trust in them. Working with these influencers can help companies prove their credibility to the locals, as the influencers' reputation will help verify the legitimacy of the company in the eyes of the locals, and further accelerate their pace of global expansion.
Bryant McGill once mentioned, "Whatever makes you uncomfortable is your biggest opportunity for growth". Even though going through these four major processes, together with the whole process of applying for government grants may seem daunting, it will allow businesses to scale greater heights.
---
Case Study: JustCo Global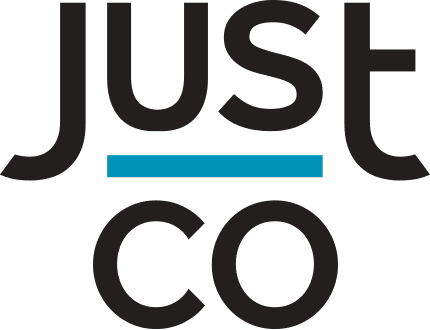 JustCo is a flexible workspace provider that was founded in 2011 in Singapore. Between 2014 to 2019, JustCo embarked on its expansion plan in the Asian Pacific, targeting cities like Seoul, Shanghai and Jakarta.
Being a start-up, JustCo had insufficient funds to venture out on their own, thus they sought grants and funding from the government and government bodies. JustCo managed to attain the investment of US$177 million from Singapore's sovereign wealth fund GIC and multi-national property company Frasers Property Limited. This allowed them to ramp up technology solutions and enhance service offerings to facilitate collaboration and networking opportunities across Asia Pacific.
To combat the challenges of not being familiar with the local landscape, JustCo partnered with local businesses in the respective countries, such as Sansiri in Thailand and Gunung Sewu in Indonesia. This helped them to tap on the expertise of their partners and gain local market knowledge and operational expertise.
JustCo also employs each country's local talents to get a better understanding of each market and their demands, enabling JustCo to get a stronger foothold when entering new markets and continually redefine flexible workspace experience for their local members. For example in Australia, since JustCo found out that coffee is an essential part of Australia's workplace culture, JustCo centres feature an in-house café/barista for members to make a quick coffee run. The centre was also designed to feature spacious hot-desking areas and ample collaboration areas as Australians enjoy socialising and they tend to keep things casual in a business setting.
Similarly in Taiwan, as a tribute to the national drive towards sustainability and upcycling, recycled materials have been creatively incorporated in the design and furniture within the space.
JustCo's commitment to create a productive and conducive workspace globally has been made easier with the help of government grants, as well as employing good business techniques such as partnering with local companies and hiring their workforce.
---
Looking Ahead
Moving forward, there is a trend towards remote working and a higher dependency on online collaborative tools, such as Zoom, Skype, Google Suite etc. Hence, there is an urgent need for workplaces to adapt to the evolving work culture, especially in terms of their IT infrastructure. Although some companies may find it extremely costly to revamp their mode of working, there are ample government grants available to aid these companies.
If you are interested to find out more about how you can manage your business especially during periods of uncertainties, do check out our pre-recorded webinar at https://www.youtube.com/watch?v=PjveSh2mDT8&feature=youtu.be&ab_channel=ForbisAccountingTV to gain more valuable tips, advice and insights.
Authors:
Celesdia SOH Jia Hui
Business Development Associate
Chrislyn WONG Shu En
Business Development Associate
Nur FADHILAH Bte Abd Fazil
Business Development Associate
Michelle CHEN
Business Development Associate
Editor:
Ryan Adnin GOH
MBa, Certified Employment Intermediary (KAH)
Director of Advisory

---
References
Albano, D. (2020). What a postpandemic future means for business expansion.
theHRDIRECTOR. https://www.thehrdirector.com/features/business-growth/the-postpandemic-future-and-what-this-means-for-business-expansion/
Backaler, J. (2018). To Grow Your Business Abroad, Partner with Local Influencers. Harvard
Business Review.
https://hbr.org/2018/09/to-grow-your-business-abroad-partner-with-local-influencers
Brooks, C. (2019). Going Global: How to Expand Your Business Internationally.
Business News Daily.
https://www.businessnewsdaily.com/8211-expand-business-internationally.html
Chan, M. (n.d.). S'pore-Based, Globally Present: 5 Founders Share Tips On Expanding
Overseas. Vulcan Post. https://vulcanpost.com/680371/singapore-startup-expanding-overseas-tips/
Co, D. (2020). Enterprise Singapore to enhance grants, loan schemes to support businesses'
COVID-19 recovery. CNA. https://www.channelnewsasia.com/news/business/enterprise-singapore-to-enhance-grants-loan-schemes-to-support-13261442
Donelly, D. (2020). What are the Benefits of Global Expansion for your business? New
Horizons. https://nhglobalpartners.com/benefits-global-business-expansion/
Enterprise Singapore. (2020). Go Global.
https://www.enterprisesg.gov.sg/keepgrowing/go-global
Enterprise Singapore. (2018). Grants.
https://www.enterprisesg.gov.sg/financial-assistance/grants
Enterprise Singapore. (2020). How Singapore Companies Can Succeed in Overseas Markets.
https://www.enterprisesg.gov.sg/blog/how-singapore-companies-can-succeed-in-overseas-markets
Ho, M. (2020). Commentary: There is more support for Singapore firms to go overseas. But
some just don't want to. CNA. https://www.channelnewsasia.com/news/commentary/singapore-budget-sme-overseas-enterprise-sbf-government-measure-12530504
Kalyani, A. (2019). Benefits of Expanding Your Business Internationally. Medium.
https://medium.com/@amitkalyani/benefits-of-expanding-your-business-internationally-ac71c56f6ba0
Natally, K. (2020). Why Companies Expand into International Markets. Born to be global.
https://borntobeglobal.com/2020/06/26/why-companies-expand-into-international-markets/
Quain, S. (2019). Why Do Businesses Operate Internationally? Chron.com.
https://smallbusiness.chron.com/businesses-operate-internationally-78226.html
Van, Thompson. (n.d.). Handling Cultural Differences in a Global Business. Chron.com.
https://smallbusiness.chron.com/handling-cultural-differences-global-business-75485.html
Velocity Global. (2017). Hire Globally: A Quick Guide to Expanding Overseas by Hiring Local
Talent. https://velocityglobal.com/blog/hire-globally-quick-guide-expanding-overseas-hiring-local-talent/