Introduction
According to Philip Kofter, who is known as the Father of Marketing, "Marketing thinking is shifting from trying to maximize the company's profit from each transaction to maximizing the long-run profit from each relationship." Relationships are becoming extremely valuable today. Not just the relationship with its customers, but with its other stakeholders such as the employees and suppliers. The article will examine the importance of maintaining good relationships with these stakeholders as well as how we can do so.
Customer Relationships
As the saying goes, "Customer is King". After all, it is the customers that greatly affects the sales revenue of the company. This is especially true for companies in the service industry. Rather than just blindly selling products to customers, the focus should be on marketing the true brand message in order to maintain the relationship with them, even after the transaction has been made. This improves customer retention while building on their brand loyalty. It can also lead to positive word of mouth and thus increase your customer base and sales.
A simple visual here will introduce different ways on how you can actively engage your customers: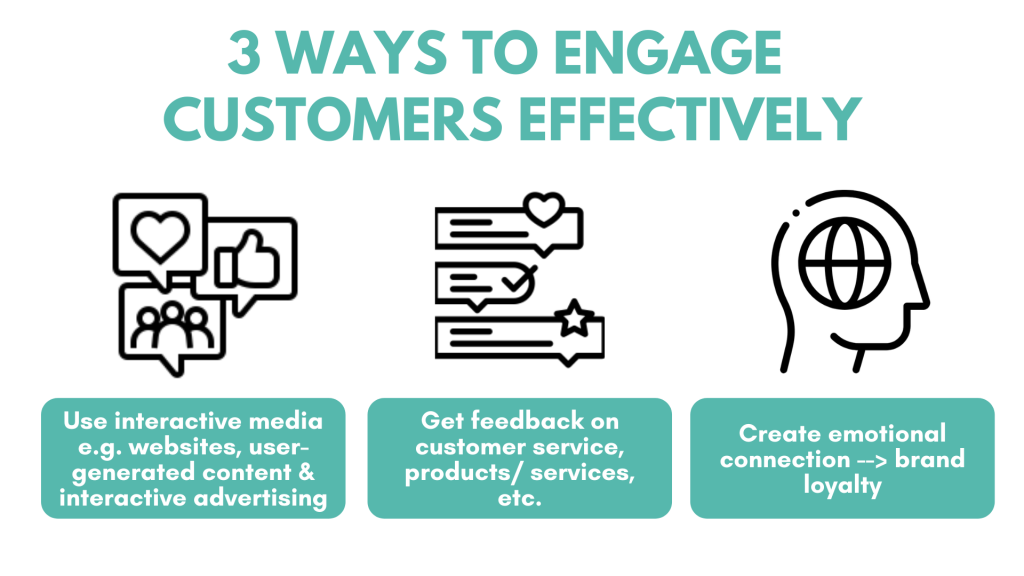 Employee Relationships
While customers are important to a company, your employees matter too. In fact, they are your most important customers. As they are customers that have the most insights to your product or services, they are highly valuable to your company. You can rely on them to give you the most constructive feedback on how to improve on your goods. When treated right, these "customers" can also become your greatest brand advocates and will take better care of your customers.
Furthermore, employees serve important roles in representing your organisational culture. How does your company manage employees? And how do they manage other parties? Even if your company has formed its core brand identity, it is the employees that help maintain it.
Regardless of the size of the firm, having a structured human resource management will help in managing the welfare of the employees. The human resource department can come up with a proper recruitment system to ensure that the firm selects the right employee that is able to fit well into its culture.
Supplier Relationships
In order to meet your customers' demand for your products, your supply chain needs to be effective and efficient. If your supply chain fails to deliver what your customers want and on time, it will disappoint your customers and adversely impact their satisfaction. How effective your supply chain would be is reliant on how well you manage your relationships with your key suppliers. Forging stronger ties with your suppliers is highly advantageous for your company as it may lead to special benefits such as concessionary rate and preferential services.
Just like any other relationship, it is crucial to display empathy towards the other party. As an entrepreneur yourself, you would understand the frustration of dealing with customers that do not pay on time despite invoices being given. Not only will you be short in cash but there may be some things that have to be put on hold due to the lack of funds. Similarly, you are a customer to your suppliers. As such, in order to prevent tension between you and your supplier, make the effort to pay on time. Easing their operational affairs, where you can, will also ease your affairs in getting your products.
Additionally, ensure that as buyers, you provide sufficient lead times for your suppliers to prepare your orders. By understanding your suppliers' production methods, needs and workload, you would be able to estimate what is a suitable lead time for them to prepare your goods comfortably. It will also ensure that your products will always be of good quality and reduce the likelihood of product rejects.
Conclusion
Of course, there are many other types of business relationships with various stakeholders that are not mentioned in this article. But instead of trying to manage all those relationships at once, it is important for the company to do its own research on which stakeholders' relationships you would want to prioritize. The relative importance may very well differ in different industries, as well as in different phases of your business growth. All in all, your business relationships play a major role in creating more value for the company and opportunities for growth.
---
Authors:
Celesdia SOH Jia Hui
Business Development Associate
Chrislyn WONG Shu En
Business Development Associate
Nur FADHILAH Bte Abd Fazil
Business Development Associate
Michelle CHEN
Business Development Associate
Editor:
Ryan Adnin GOH
MBa, Certified Employment Intermediary (KAH)
Director of Advisory
---
References
https://www.forbes.com/sites/forbesagencycouncil/2017/10/24/why-is-customer-relationship-management-so-important/?sh=5a2d49bf7dac
https://www.efficy.com/why-companies-that-put-the-customer-and-employee-at-the-center-are-more-successful/
https://www.coriniumintelligence.com/insights/are-employees-more-important-to-your-business-than-customers
https://www.entrepreneur.com/article/206530
https://www.pay4.com/supplier-relationship-management-important/