Ranking as the world's most competitive economy for the second straight year, it is increasingly difficult to remain relevant in Singapore's fast-paced and ever-progressing economy. Bachelor degrees which used to be a major draw for employers are now considered as a basic requirement candidates must possess. Otherwise they would be disadvantaged when fighting against someone else with similar job experiences for the same job position.
Solely focusing on Singapore's Accounting industry, one would have to compete with more than 100,000 Accountancy professionals for opportunities in Assurance, Tax and Advisory departments. Furthermore, being known as a globally trusted hub for business and finance, it is reasonable to expect that the Accounting industry in Singapore will continue to grow and see more professionals entering this industry. Therefore, it is crucial to upgrade one's professional skill sets and knowledge to remain competitive.
---
Importance of obtaining Professional Accreditations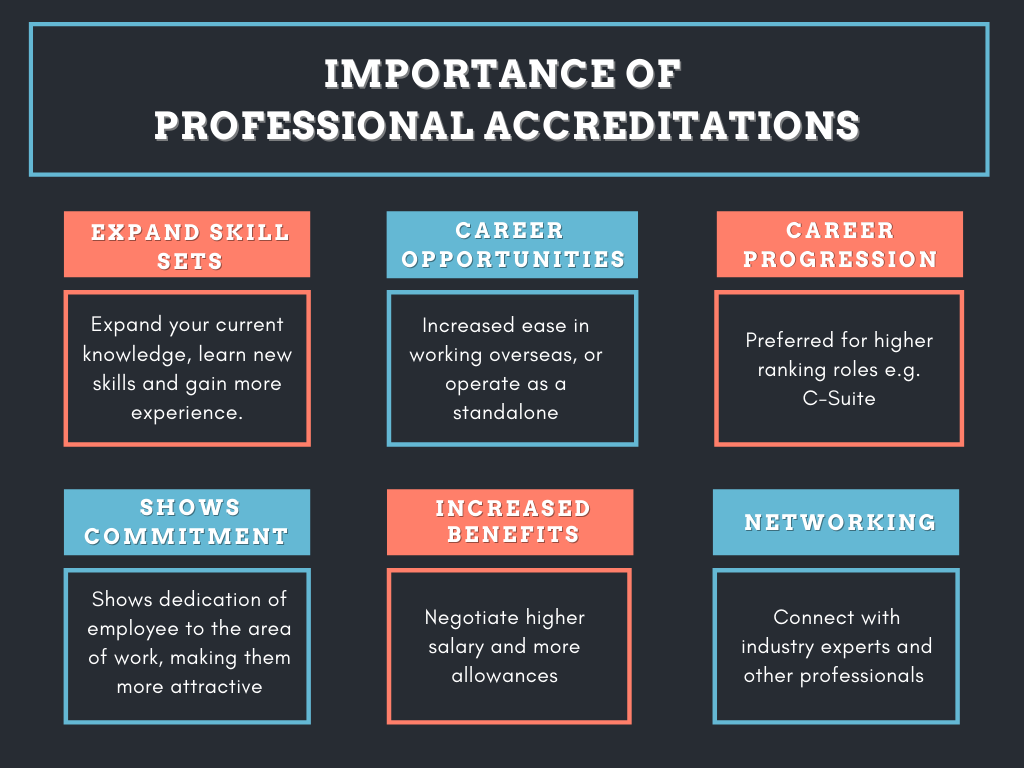 The above reasons are why obtaining professional accreditations are so important in today's economy. Especially considering the post-pandemic situation, companies are expected to freeze or reduce hiring of new employees to cut costs, thus making competition tougher than before.
---
Comparisons between Certifications
Accounting & Auditing Certifications:
| | | |
| --- | --- | --- |
| Type of accreditation | CA Singapore (Chartered Accountants) | ACCA Singapore(Association of Chartered Certified Accountants) |
| Details | Those who qualify for CA are equipped with financial expertise and business acumen. They are valued by employers and recognised as holding the highest standards in ethical and professional conduct. | ACCA is the global body for professional accountants offers business-relevant, first-choice qualifications to people of application, ability and ambition around the world who seek a rewarding career in accountancy, finance and management |
| Duration of Practical Experience needed | Accumulate a minimum of 450 working days across 3 years of core work experience. | 3 years' relevant practical experience requirements |
| Qualification tenure | No specific timeframe | No specific timeframe |
| Estimated Cost | Professional Programme Modules: S$1,391.00 eachDetailed breakdown of cost here. | Detailed breakdown of costs here. |
Tax Certifications
| | | |
| --- | --- | --- |
| Type of accreditation | SIATP or SCTP (Singapore's Tax Accreditation Body) | Tax Academy Singapore |
| Details | The benefits and privileges of an Accredited Tax Advisor, Accredited Tax Practitioner or Accredited Tax Practitioner (Provisional) are aimed at equipping SIATP (now referred to as SCTP) members with the resources and recognition to stand out in the profession and progress further in tax. | Not-for-profit institution set up by the Inland Revenue Authority of Singapore in collaboration with the international accounting firms |
| Duration of Practical Experience needed | 3 to 5 years depending on which accreditation | At 3 years ofrelevant working experience in tax |
| Qualification tenure | – | Advanced Tax Programme (ATP) certificate will be awarded to those who pass allthe required modules within a 5-year period |
| Estimated Cost | Admission fee: $200 Annual subscription fees: $100 to $280 per specialisation | ATP course fees: S$7,190.40(6 core and 2 elective modules) |
Special Certifications
Type of accreditation
ASEAN CPA (ASEAN Chartered Professional Accountant)
CIPA (Certified Islamic Professional Accountant)
Details
ASEAN CPA is a title accorded to professional accountants who are ASEAN nationals and possess the necessary qualifications and experiences that complies with the ASEAN Mutual Recognition Arrangement on Accounting Services (MRAA).
The CIPA program is intended towards development of, and enhancing of, industry's human resource capabilities by developing experts for Islamic finance accounting and financial reporting, audits, and Shari'ah audits.
Duration of Practical Experience needed
Minimum 3 years cumulatively within any 5 year period prior to application
Working in an approved Practical Experience Institution (PEI) for at least 1 year and under thesupervision of an External Supervisor
Qualification tenure
ASEAN CPA is valid for one year upon approval from ACPACC.The ASEAN CPA title have to be renewed annually. There is no annual renewal fee payable.
Subject to completingthe program within 36 months from the enrolment date
Estimated Cost
Registration fee is waived until 31 Dec 2020
Module fees: US$800 per paper (~S$1065)Examination Fees: US$200 per paper (~S$266)
Detailed breakdown here.
---
Common Accounting Accreditation Questions
Should I Get Two Accounting Certifications?
It depends on the career path and specialisation that you want to take. For example, if you have your CA Singapore accreditation, but want to widen the range of services you can provide to other regions and countries. You may consider taking up the CIPA (Certified Islamic Professional Accountant).
Can I Obtain the Practical Experience Qualification from any company?
For the Singapore CA Qualification, candidates can only fulfill their Practical Experience Requirement at any Accredited Training Organisations (ATO). ATOs are certified by the Singapore Accountancy Commission (SAC) to possess the appropriate standards of staff training, accountancy resources and development for Singapore CA Qualification.
For the CIPA, candidates can only fulfill their Practical Experience Requirement at an approved Practical Experience Institution for at least 1 year and under the supervision of an External Supervisor.
---
Authors:
Celesdia SOH Jia Hui
Business Development Associate
Chrislyn WONG Shu En
Business Development Associate
Nur FADHILAH Bte Abd Fazil
Business Development Associate
Michelle CHEN
Business Development Associate
Editor:
Ryan Adnin GOH
MBa, Certified Employment Intermediary (KAH)
Director of Advisory
References
https://www.cpaaustralia.com.au/about-us/
https://www.taxacademy.sg/files/executive-tax-programmes/income-tax/BusinessCorporate42020.pdf
https://isca.org.sg/member-services/pathways-to-other-professional-qualifications/asean-chartered-professional-accountant-for-isca-members/asean-cpa-faq/
http://allalah.com/assets/CIPA_Brochure.pdf
https://sctp.org.sg/Accreditation-Criteria
https://www.edb.gov.sg/en/business-insights/insights/singapore-retains-top-spot-as-world-s-most-competitive-economy.html
https://www.myskillsfuture.sg/content/portal/en/industry-insights/industry-detail.html
https://www.accaglobal.com/sg/en/qualifications/accountancy-career/fees/fees-charges.html?countrycode=Singapore